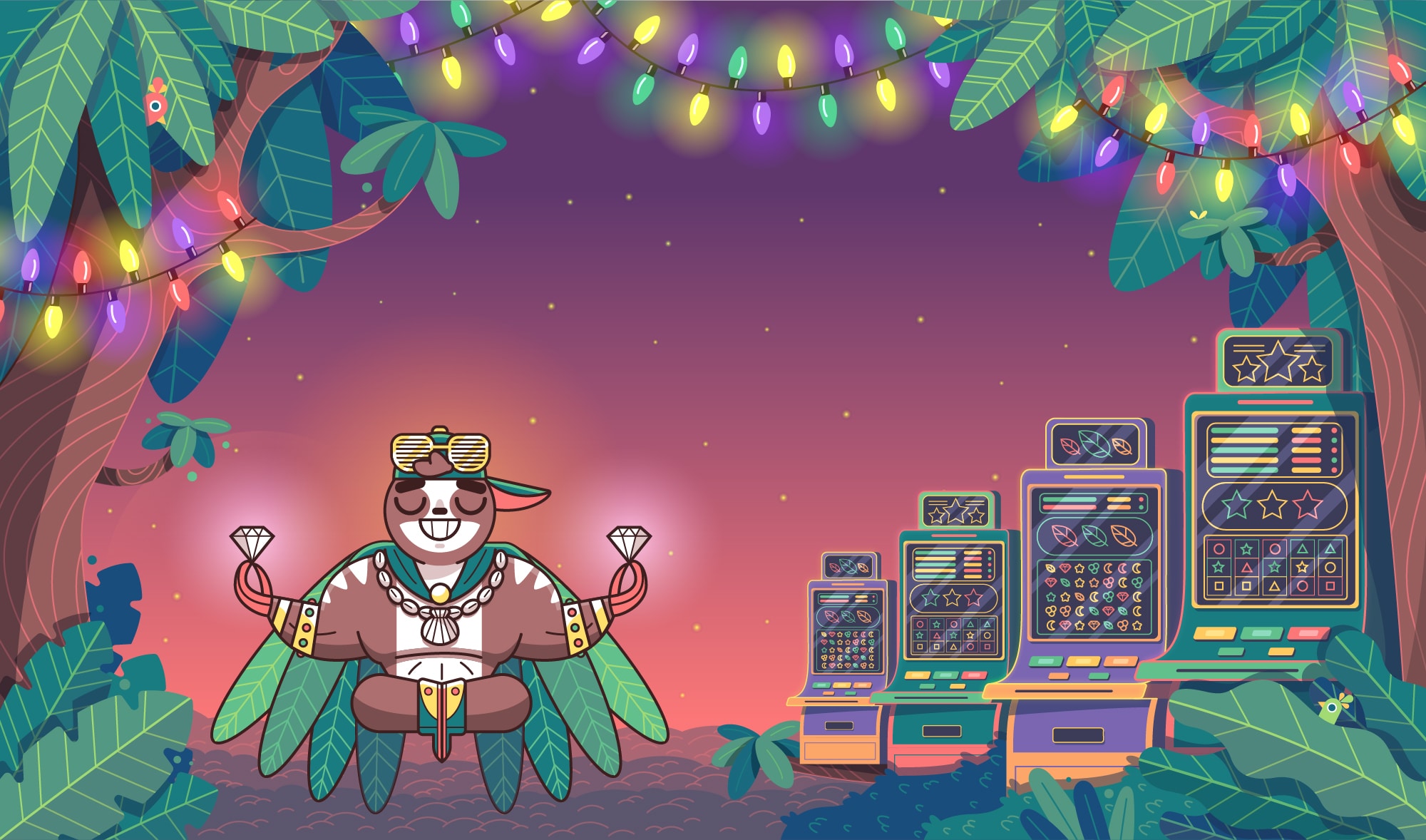 As you already know, Slothino offers you the best casino games and best casino promotions. But have you heard about our casino VIP program? If you haven't joined in yet, then why not take some time to learn more about it? We are always glad to offer a hand. We will take you through a detailed explanation on how our loyalty program works and the benefits you can earn.

Our Super Sloth VIP program has 10 levels, each offering more benefits as you make the way up the ladder. Climb to the top and become the sloth king – at your own pace, of course. That's the Slothino way, after all.
How Does the Slothino Casino VIP Program Work?
Joining our VIP program is the first step. How are you supposed to do it? Well, no worries here – your participation begins automatically after the first deposit! Come hang around with us and become part of our loyalty program – pretty easy, right?

After that, you will start earning points. You get 1 Slothino Loyalty Point for every 20€ wagered in real money games. That applies to slots, table games and live casino games. You can earn a maximum of 10 points on a single bet, which means that any wager exceeding 200€ will still reward 10 loyalty points.

Now here comes the best part: accumulating enough loyalty points allows you to level up! And every new level comes with additional benefits, an exclusive bonus power. Climb up the loyalty ladder at your own pace and enjoy the best possible casino experience at Slothino. Each level also comes with fun sloth facts – the best of both worlds! Now, let's take a look at the Super Sloth Program VIP ladder.
Level 1: Power-Napper
Now that you are part of the Slothino crew as a Simple Sloth with the Power Napping superpower, it's time to start your journey on the Super Sloth VIP Program. As a Bonus Power, you get 10 free spins on Twin Spin! This level is based on the brown-throated sloth, the most common sloth species. Did you know that these cute little animals sleep from 15 to 18 hours a day? After waking up from a revitalizing power nap, you will have plenty of energy to climb up another level.
Level 2: Slo-Mo
Congratulations! You have leveled up into the Just Hangin' Sloth. Based on the pale-throated sloth, this level is perfect for players who love to hang around with us. Fittingly, your superpower is the Ultimate Hang. After leveling up, you also get 25 free spins on Hotline 2 as a Bonus Power. Once you earned enough points by hanging around, it's time to take another swing and move up.
Level 3: Racewalker
You are now a Serene Sloth, possessing the superpower of Excessive Patience. This level is also based on the pale-throated sloth. Patience is a virtue, and we couldn't agree more. You really know how to pace yourself, slowly but surely climbing up the VIP ladder. As a reward, you also get a Bonus Power with 40 free spins on Starburst. Slow and steady as always, you progress to the next level.
Level 4: Chess Master
This level combines the pale-throated sloth and the brown-throated sloth, awakening the power of the  Spontaneous Sloth. As a Bonus Power, you get 75 free spins on Neon Staxx. At first glance, your superpower of Spontaneous Clumsiness might not seem particularly great. But this is exactly one of the sloth's biggest strengths, as the clumsy movements often allow them to escape from the eyes of predators. At the same time, a spontaneous player knows when to take a leap and move up another level.
Level 5: Thorpey
Based on the Maned sloth, this level turns you into a Swimmer Sloth and speeds things up a bit. You start with a nice Bonus Power of 100 free spins on Dead or Alive 2. Since sloths have curved toes to help swinging around trees, they have a hard time moving on the ground. On the other hand, they are very good swimmers! Make the most of your Super Swimmer superpower and make a splash to move up again.
Level 6: Sneaky
This level is based on the Linnaeus' two-toed sloth, and awards you with a Bonus Power of 150 free spins on Coins of Egypt. You are now a Slick Sloth. Further up the trees, sloths have a much easier time staying away from predators. Because of their fur, sloths can also easily blend in with the foliage, making for the perfect camouflage. This is the perfect fit for your Super Sneaky superpower! Without drawing anyone's attention, you stealthily climb up another level.
Level 7: The Hoff
Keep it up – you are almost at the top of the tree! Based on Hoffmann's two-toed sloth, you are quite the cool sloth. Hoff sloths are nocturnal, and don't really mind staying up playing their favorite games. Starting at level 7, you also earn a cashback on every bet placed on eligible games! As a Bonus Power, you get 100€ in casino cash!
Level 8: The Schwartz
Combining the best of the Hoffmann and the Linnaeus sloths, the Schwartz has the Slo-Mo Time Travel as a superpower. You are almost at the top of the tree, so hang in there. As a Bonus Power, you get 250€ in casino cash.
Level 9: The King
The king of sloths reigns supreme by combining the characteristics of the other species. You get the Entertainment Empowerment as a superpower, which shows that you really know how to have fun. As the Crown Sloth, you also get an incredible Bonus Power of 500€ in casino cash. But the journey isn't quite over yet.
Level 10: Supersloth
You did it! After a long journey, you've finally made it to the top of the tree. Based on the rare Pygmy three-toed sloth, you get to enjoy the best our VIP program has to offer as the Top Sloth. At the top of the sloth chain, you also get a Bonus Power of 1,500€ in casino cash! Enjoy the view from the top and make the most out of it – you've really earned it, after all.

Keep up with the latest casino news, game reviews and more on the Slothino blog. Also make sure to check our promotions page for the latest offers. Stay a while, Play a while!