This is chapter 4 of the Adventures of Slothino. Click here to go to the front page.
Did you enjoy the welcome of our first chapter? Not only did you get a taste of the life at Slothino with our ever generous Slothino Welcome Bonus, but you also took the first steps in discovering how the first ever eco-aware online casino brand came to be.
What's next, you ponder? Well of course, we're going to continue the Adventures of Slothino, all the while equally taking you further through your journey here at Slothino online casino. Before you get moving onwards with a continued top notch gaming experience, let us remind you of the hardships (and eventual small successes) Slothino has embarked on.
As we wanted to make ever so clear, Slothino was certainly different from your typical sloth – He had a dream. Yet that dream certainly wasn't for riches, but instead to conserve the amazing Amazon rainforest and protect his sloth amigos – All 6 species of them! You started your journey by already creating a Slothino account and making your first deposit. While you were busy doing so, Slothino left the Amazon and entered the concrete jungle… And that's exactly where we left off. Now, make like a sloth – Kick back, relax, you're about to find out even more about the Slothino opportunity.
The Opportunity to Thrive & Conserve
When we decided to launch Slothino as an eco-friendly casino brand, we realized we had a double-edged sword on our hands; we could give players an undeniably quality game experience which focuses strictly on fun, while also promoting awareness of our very mascot and his natural habitat. This is the core mission behind our brand. When we came to the conclusion that we can actively promote the opportunity to thrive and conserve, Slothino's mission was naturally born. And so, it continues…

In chapters 3, Slothino was left on the floor of a Las Vegas casino; surrounded by people hungry for jackpots and their next big thrill, Slothino himself felt 'drunk' by his surroundings. It could have been the lack of food, the exhaustion, but equally, he was fueled with motivation to make his dream of preservation come true. He knew he somehow had finally found his opportunity to thrive.
Adventures of Slothino chapter 4: The Slothino Casino Opportunity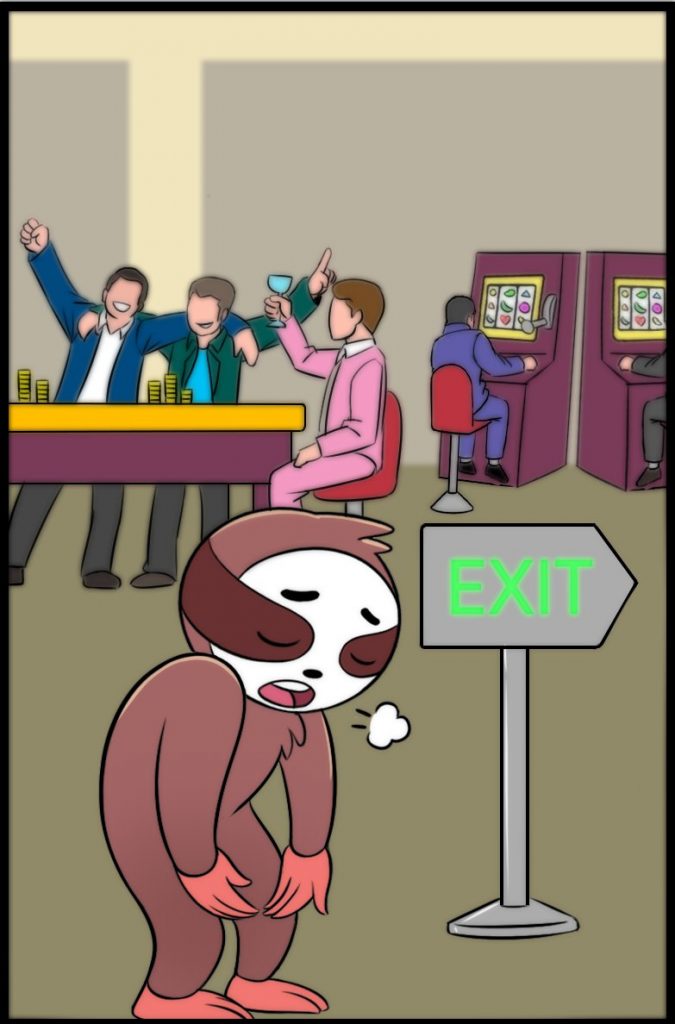 After spending some time inside this pumping Las Vegas casino, Slothino needed to take a break – there's only so much action a tired sloth could take after such a journey!
So he slowly made his way outside, where he could finally take in some fresh air. Eager to be in a familiar environment, he climbed a real palm tree – These weren't like the trees at home, but they were better than nothing!
He observed as he rested, eyes closing and opening, as the humans would come and go as they pleased. And then the second opportunity struck.
---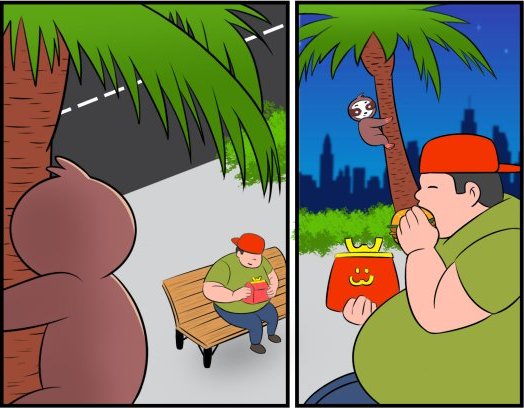 A rather large man sat down on a bench below the tree where Slothino had been hanging. He was eating something unfamiliar to Slothino – what we would know as a fast food 'happy' meal.
The man demolished the burger in mere minutes and being the selfish human that he was, he left the rubbish on the bench, got up and trotted off back into the casino.
---
Slothino was desperate, and on top of that, curious – so down he went to see what this man had unconsciously left behind.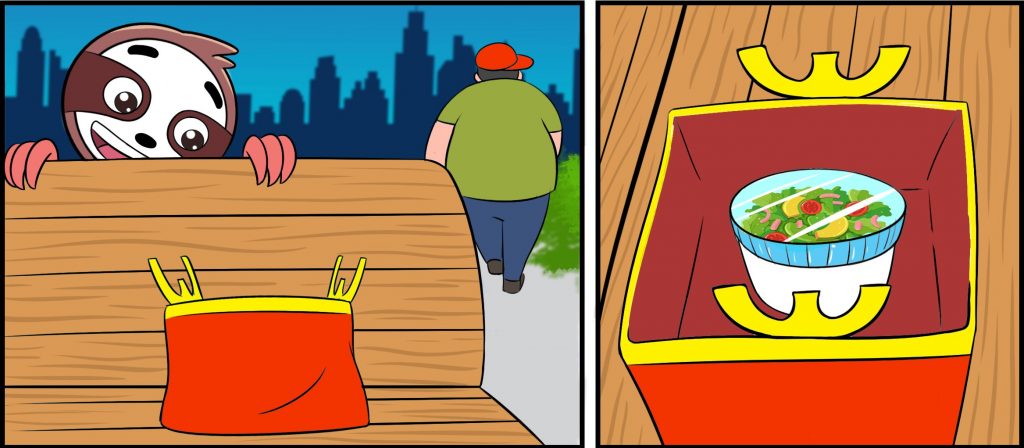 Down Slothino went, straight for the bench, when he then realized the man had not eaten everything – There was a salad, untouched!
But the salad sat in a plastic container that he couldn't open. Feeling yet another defeat, opportunity knocks again.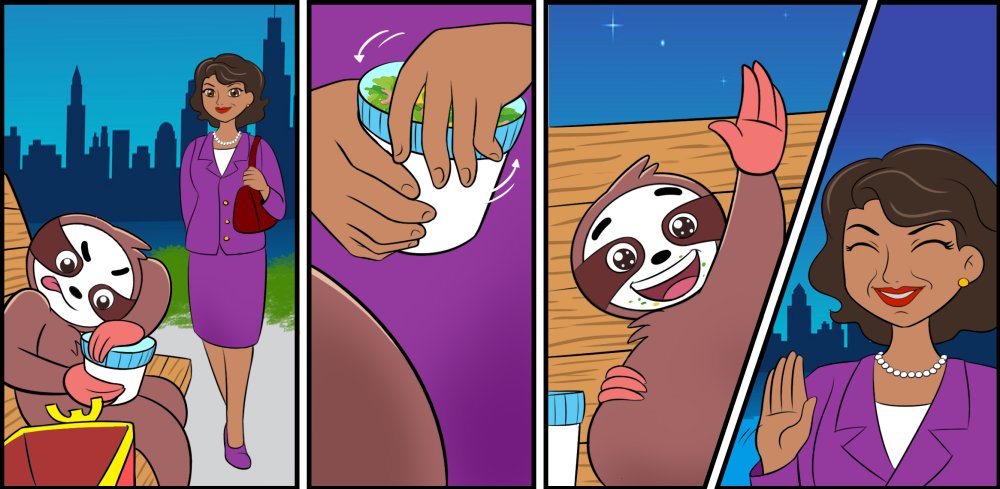 A kind-looking woman noticed Slothino, walked right over, and opened the salad for poor Slothino, noticing how desperate he was. He demolished the salad (much like the man and his burger) and the woman observed him, fascinated.
When he finished, the woman smiled at him, and he smiled back. "I'm Slothino", he said. "I'm Sally", she replied, "nice to meet you"… Right than and there at that moment, a new friendship was born.