This is chapter 8 of the Adventures of Slothino. Click here to go to the front page.
If you've been following along with the Adventures of Slothino from the humble beginnings of chapter 1, all the way to chapter 7, then you have certainly gotten to know our humble, dedicated mascot that is Slothino. Not only so, but as you've followed along Slothino's journey, you've started your very own journey with Slothino casino; from registering your account with us, collecting your 3-tiered Welcome Bonus and exploring our epic online casino games, the journey to Slothification has just begun.
As you may know, Slothino online casino is on a mission to define itself as the very first eco-conscious online casino brand. Our mascot, Slothino, went through a mission and a half to get to where he is… here at chapter 8. Defining his vision, putting the plan into action and hence establishing this epic (if we do say so ourselves) casino brand, his journey isn't quite over yet.
Slothino officially launched the Slothino casino brand in November 2020, and he has now returned to the Amazon to make a real difference – A difference he couldn't do, without the help of his friends.
Keep reading the Adventures of Slothino: Chapter 8

The land Slothino purchased in the rainforest was something he could have only dreamt of a year before. Quickly, the word spread about what Slothino was doing in the rainforest – Everyone was taking note that he was fighting against deforestation and saving the sloth species.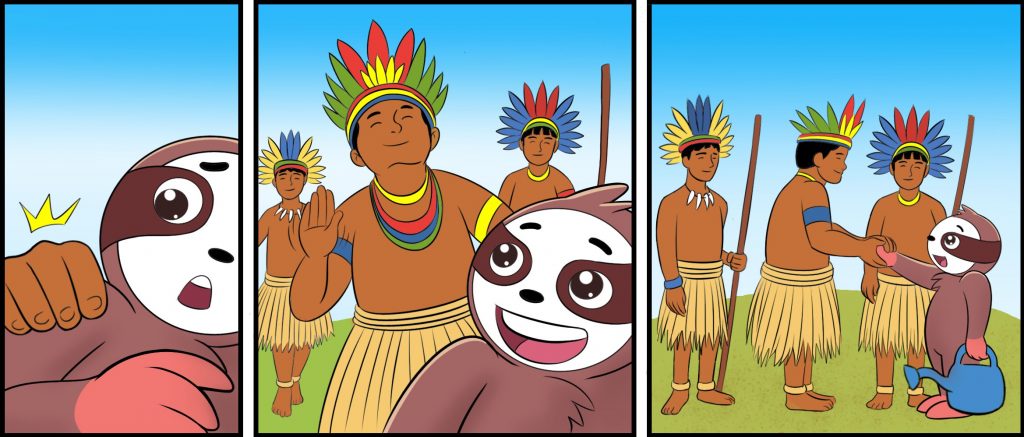 One day a native tribe came to talk to Slothino – They knew he was onto something big. The Guarani tribe told him that what was happening to their part of the rainforest was happening in many places, the destruction never seemed to end.
They wanted Slothino to teach them how they could also earn money from the casinos and protect their homes. So Slothino started telling about his epic adventure and what he had learned about the casino business. The natives didn't understand anything at first, so Slothino had to explain everything… Which he did, attentively.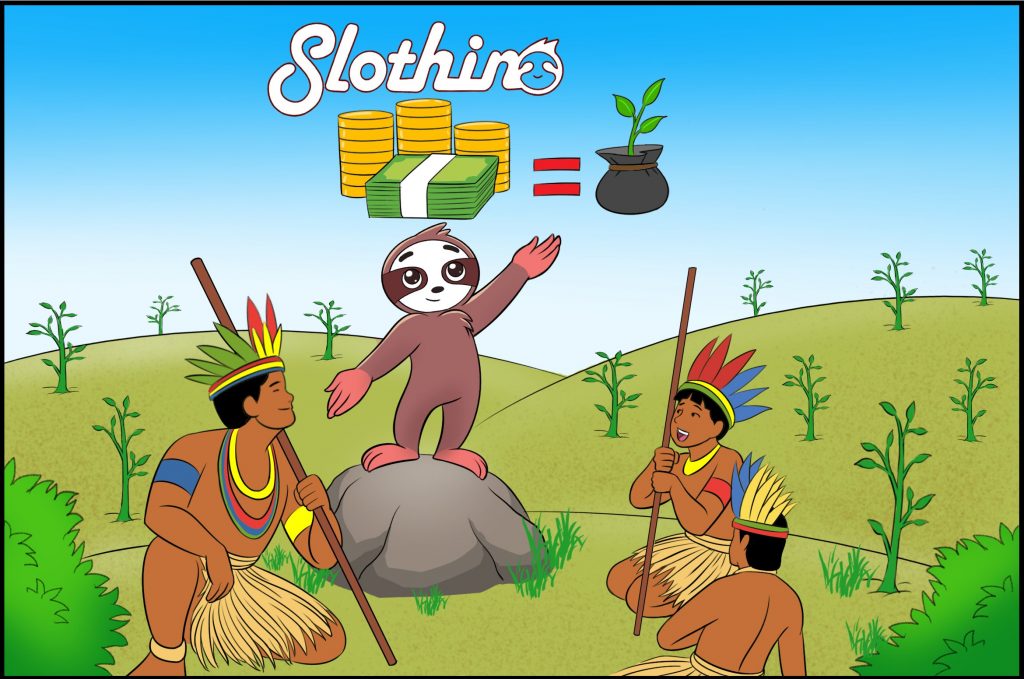 The Slothino Tribe was Born
The Guarani tribe listened eagerly to Slothino, soaking up every word which came out of his mouth, thirsty for more information. After all, this was a far different world – the world of online casinos – and it made their imagination run wild. Could this be the answer they were looking for? Slothino could see how their ears perked up as he continued to tell them all about the wild and wonderful world of playing online casinos, and of course, about the epic casino jackpots.
Blackjack, casino slot games, Roulette, Poker… Each and every game had their very own set of rules, and ways to play. The tribe could familiarize such games with their own fun past times, but Slothino's idea of fun was different – you could score big at any time, truly changing your life.
Although Slothino hadn't expected it, meeting the tribe added a whole new direction to his journey; he wasn't alone. Sure, Sally was helping Slothino, but they were only two souls on one journey. Now, they were more. The tribe knew Slothino was on the right path, and while he told his spectacular tale, a natural new friendship begun and the Slothino Tribe was born.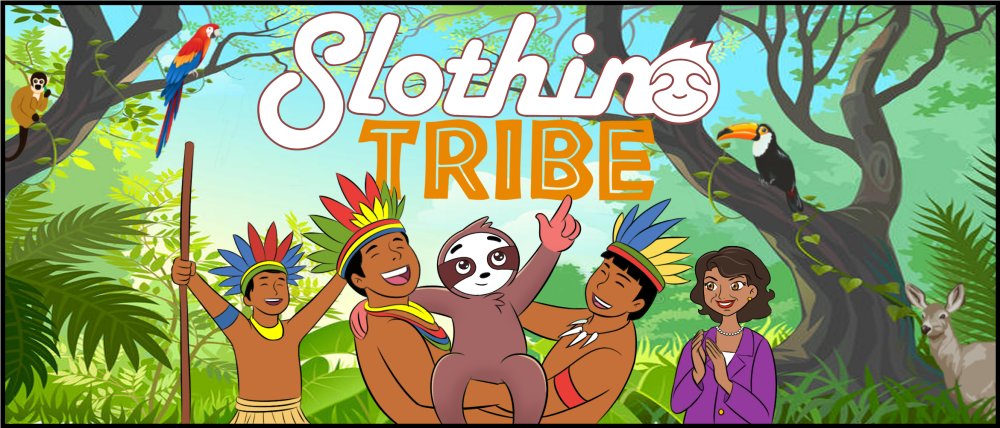 As it goes to show, perseverance can truly take you anywhere you want in life. Slothino is living proof! Money and greed will always coexist in one scenario or another, but sure enough, not always. Ready to find out what happens next? Visit chapter 9 as the story continues…